What is extreme about kayaking and fishing you may be wondering?
Such a peaceful and relaxing sport, how can it be extreme or dangerous? Kayaking in anyone's common mindset would be a visual of a serene setting, on a lake or some flat body of water, meandering through trees and creeks, but it is not the same when it comes to fishing, especially the BIG fish. So this is how it goes. An angler goes offshore, kayak tricked out with all the latest gear (just like a regular fishing boat), and fights winds, current, the open ocean, and catches really big fish.
But what is so extreme about regular fishing, you may be wondering? Let's first define "extreme." First, we would translate into targeting fish that are potentially dangerous due to size, attitude, or armament. Large fish such as sharks, Marlin, and Tarpon just to mention some of the big ones. It can also mean targeting any fish in areas that 'normally' only motorized boats could or would venture. For example, out in the open sea, where hooking a big fish can take you hours and miles offshore. It can also mean angling using a kayak in a manner that would make your loved ones verify your life insurance is up to date, as funny as it may sound.
Therefore, before we jump into further details of fighting to reel the BIG fish on the edge of a kayak, let's first talk about preparation. Most people that push the limits of kayak fishing do so because they've "been there and done that" with conventional methods. Every time a fish is released, we hope that the next cast will bring an even larger fish. Catching large fish in a kayak, sometimes in less than perfect conditions, can challenge your balance and endurance. So make sure you're fully prepared both physically and mentally before you launch. When getting prepared for this sort of battle, the "what if" scenarios and corresponding safety concerns are many, therefore ensuring a safe experience will need to be on the top of your "to-do" list as you get ready to go.
Your kayak is a tool, therefore it must be used not only to float, but to use innovatively. For example, many anglers use their paddle craft simply to access areas from which to wade or fish from the shore. But others may carry bigger baits off the beach, out on the open ocean in search of the BIG game. This tactic can be very rewarding - you just never know what might be out there just past the breakers. The right kayak and fishing gear is essential for seasoned anglers and beginners alike. Having the ability to access places motorboats cannot reach, with the affordability of kayaking and the pairing of multiple aspects of outdoor recreation, are huge draws. The wide variety of gear choices and initial learning curve of kayaking can seem a bit daunting, but once you hop in you'll see it is truly one of the most accessible activities out there.
They say the best fishing kayak is the one you own. In recent years the technology and design of kayaks being built specifically for kayak fishing have come a long way. Finding a kayak rigged to fish will provide you with a more enjoyable experience and provide limitless potential for your new obsession. Amongst the diverse options of fishing kayaks offered by Nautical Ventures we recommend Old Town Kayaks, specifically The Old Town Sportsman Autopilot 136 model which is a revolutionary design powered by the Minn Kota 45lb thrust 12V motor, no peddling or paddling necessary. The electric engine powers your kayak to your favorite fishing spot and you can stay there despite winds or currents with GPS-enabled Spot-Lock technology. The AutoPilot is Bluetooth connected and controlled by foot pedals, the i-Pilot remote, or the Minn Kota i-Pilot mobile app. Hold your course with the innovative GPS heading feature, and increase your speed or change your heading with a simple push of a button. This kayak, along with its integrated electric engine, is great for open ocean kayak fishing, while avoiding peddling against the ocean currents, no more back pain, sore legs, or arms. For more information you may visit: https://www.nauticalventures.com/inventory-b/7403184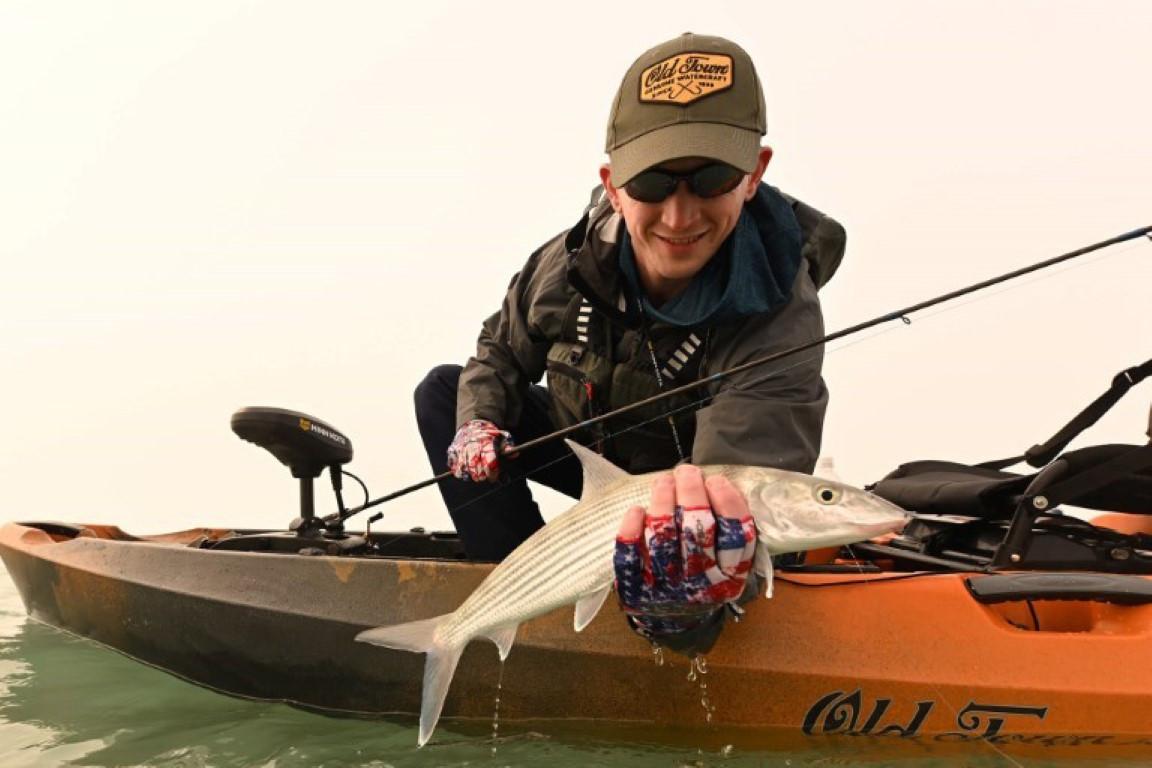 Also, Nautical Ventures offers HOBIE Kayaks that are world renown for their recreational kayaks, but have entered the fishing kayaks world in a big way. The Hobie Pro Angler, with 360 technology, features the innovative 360 Mirage Drive and Kick-Up Fins. The Mirage Drive 360 allows you to move in any direction. The new Kick-Up fins retract automatically upon the impact of a submerged object such as a log or shallows. The Kick-Up fins allow you to fish as close to sunken objects as you would like. This avoids costly and frustrating damage. Other notable features of the 2020 Pro Angler 14 360 include a wide beam for ultimate stability, EVA traction pads for standing, four horizontal rod holders, two vertical molded-in rod holders, bow and stern carrying handles, a bow hatch, a sail/Bimini accessory mount, mid-boat carrying handles, an 8" aft hatch, aft cargo well with bungee, mesh storage pockets, a Vantage ST seat, a pivoting tackle maintenance system, rudder control, H-rail bars, and a Guarding retractable transducer shield. As you can see, this kayak comes fully equipped with all the latest gear for fighting winds, current, and the open ocean, and last but not least catching the really big fish. For more information visit: https://www.nauticalventures.com/inventory-b/7371534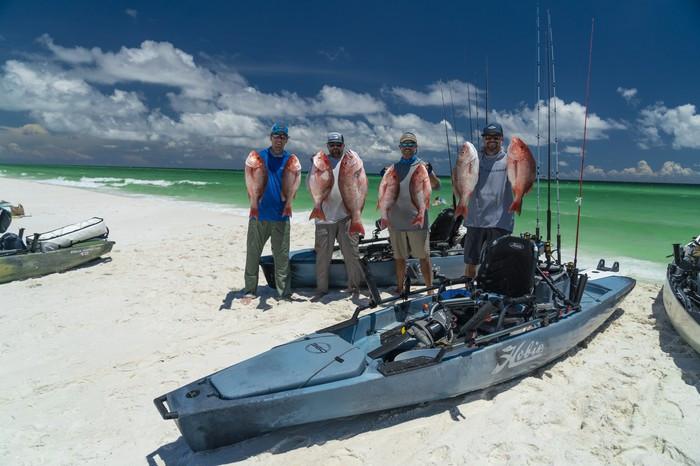 "You are the Captain, the Navigator, the First Mate, and you are in control of yourself. It's all on you." —Joe Hector founder of Extreme Kayak Fishing Tournaments.
Nautical Ventures sponsors two of the largest Extreme Kayak Fishing Tournaments (EKFT) in the country, which currently hosts two tournaments a year. The 'Sailfish Smackdown' which takes place on the second week of January at Pompano Beach, Florida. It is specifically focused on fishing Sailfish, with grand prizes up to $5,000. During Summer time, the 'Summer Slam Series' takes place also at Pompano Beach, Florida with grand prices as high as $7,500, including Hobie Outback and Revo Kayaks as prize packages. For more information visit: www.extremekayakfishingtournament.com
Furthermore, 15 years and counting, every Saturday from 6am-8am Nautical Ventures presents The Weekly Fisherman, a 2-hour radio show consisting of live call-ins by celebrity captains who share their local fishing knowledge from the past week. Between captains, listeners call in to quiz the hosts on up- to-the-minute tips, techniques, and hot spots. Other experts from the industry and related fields, as well as guest speakers from the boating industry, all participate to provide the most authoritative voice in the recreational fishing world. Listeners from all over the U.S. tune in to the radio broadcast on 940 WINZ, an iHeart station, as well as the Facebook live feed: https://www.facebook.com/WeeklyFishermanShow
The go-to show for fisherman who want the intel on what's biting and where they're biting, from Stuart to the Florida Keys.
Our team at Nautical Ventures is proud to offer fishing kayaks with a wide range of lengths and accessories. Choose your model based on the length, weight, pedal and even electric power you require to get the most from your time on the water. Talk to a knowledgeable member of our staff to learn more about kayak fishing and determine which is the most precise fit for your lifestyle. In conclusion, you can visit Nautical Ventures in Ft. Lauderdale and Palm Beach to learn more about the best and the latest on Extreme Kayak Fishing. We'll introduce you to our various fishing kayaks for sale and multiple accessories to modify your kayak. In the meantime, contact us if you have any questions about which model can meet your needs most precisely, or visit us at www.nauticalventures.com